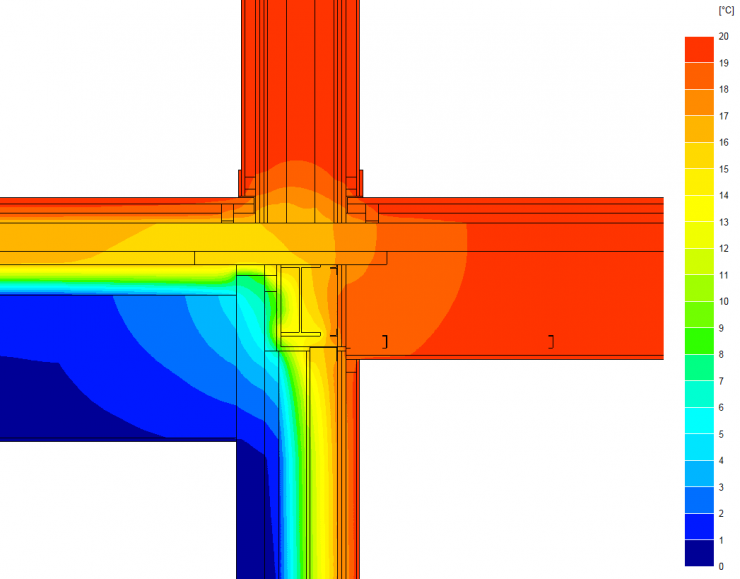 In recent weeks, our team of accredited thermal modellers have been busy producing bespoke Psi-value calculations for numerous large scale projects proposing the use of steel frame construction.
For architects and design teams, it is worth noting that steel frame construction isn't covered by the Scottish Accredited Construction Details, which means that you only have two options when it comes to accounting for thermal bridging in SAP 2012:
Ignore thermal bridging and use 'default' values
Using 'default' Psi-values for each junction will (deliberately) result in poor thermal bridging performance, making it difficult to comply with the Target Emission Rate without a significant enhancement in renewable technology. Applying default Psi-values will also significantly increase the energy demand for space heating within SAP making it almost impossible to achieve compliance with Aspect 2 under Section 7 - Sustainability - a common requirement for most local authorities.
Calculate bespoke Psi-values based on the actual proposed construction detailing
If you do not want to rely on default psi-values, then you must calculate bespoke Psi-values for each construction junction. You may also choose to calculate bespoke Psi-values if you repeatedly build using the same construction details and specification. Calculating bespoke Psi-values will not only provide you with a more accurate energy assessment, the process will also result in improved SAP / EPC ratings and deliver significant savings on your proposed specification.
Thermal bridging accounts for 20-30% of total building heat losses, which is significant. As thermal modellers, we can work closely with clients and design teams to identify effective measures to reduce thermal bridging. This process also involves calculating the Temperature Factor for each junction, which helps to mitigate the risk of condensation and mould growth at the junction.
Further information on our thermal modelling service can be found here:
https://www.carbonfutures.co.uk/services/view-service/psi-value-calculations
Further information on our thermally modelled construction detail packs can be found here:
https://www.carbonfutures.co.uk/services/view-service/construction-details